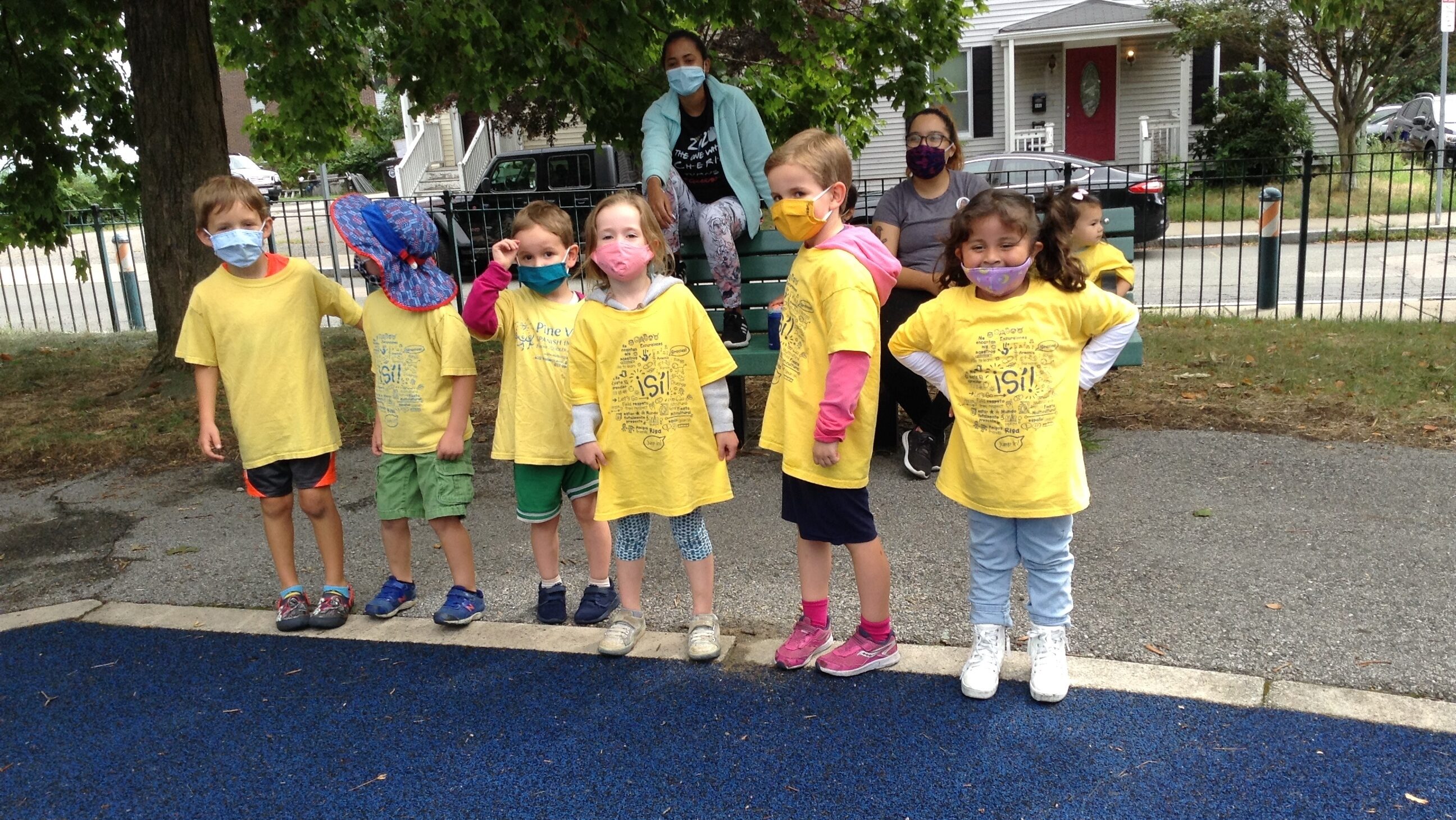 As part of keeping the PVP Community safe, we have committed to avoiding playgrounds and other public spaces where there are large crowds or where people are not following safety precautions. If you are visiting any of these spaces, please be sure to follow all recommended health and safety guidelines.
With toddlers and preschoolers in tow, checking out a new playground is always a fun adventure, but it's so easy to get into a rut and visit the same ones over and over! And let's face it, as parents you might need something new to stimulate your senses. We thought you might want to enjoy some scenic views as your little one happily plays away on their new playscape. Lucky for you, the Boston area is FILLED with playgrounds that also have amazing views. And, with a break from the traffic woes (thanks pandemic), you can take a bit of a drive and explore even more. For today's blog, we've rounded up some of our favorite playgrounds in the Boston area that are worth the drive, with some scenic views!
Robbins Farm Park in Arlington With a decent playground for little ones, this park in Arlington has a great view of the Boston Skyline so you can let your mind relax as you enjoy the scenery. With basketball courts, tennis courts and a dog park, this park has something for everyone!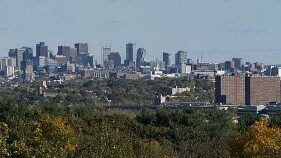 Deveraux Beach in Marblehead On the North Shore in Boston, just about a 30 minute drive outside of Boston, this playground is located right on the beach, next to Marblehead Neck. You can let your little one enjoy the large play structure and listen to the sound of the waves. If you want to explore nearby, there is also an Audubon trail and Chandler Hovey Park (no playground here), with a beautiful lighthouse!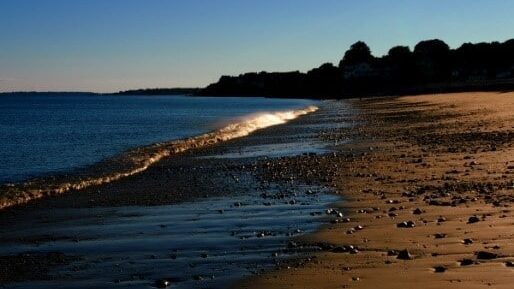 Mayor Menino Park in Charlestown Not a bad drive from anywhere in the Boston area, definitely check out the Mayor Menino Park in Charlestown. Located right on the water in the navy yard, this inclusive park was created to provide opportunities for active play, physical therapy and exercise for all abilities and ages. For a fun excursion, you can also take the MBTA ferry over the Navy Yard, explore the Boston Freedom trail, walk up the Monument or visit the Old Ironsides while you are in the area!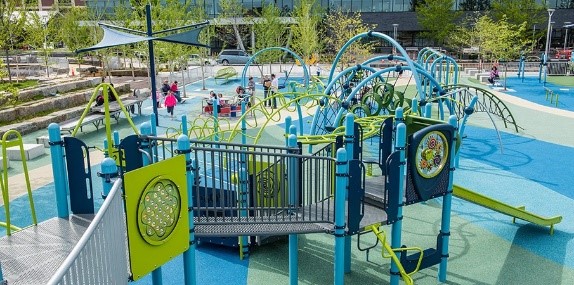 Esplanade Playgrounds in Boston Looking for a view without a drive? The Charles River Esplanade features three different playgrounds geared for kids of various ages as you enjoy the views of the Cambridge and the Charles River. The Stoneman playground is located between Fairfield and Massachusetts Avenue and is best suited for toddlers and preschools. And, as your kids grow up, they might enjoy the Esplanade play place or Charlesbank playground, which has more climbing structures for your children!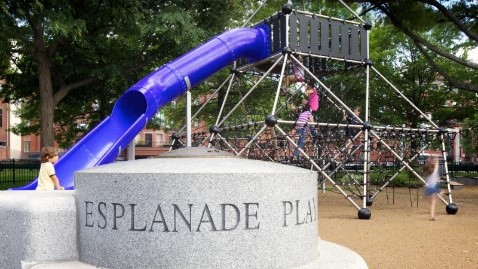 Larz Anderson Park in Brookline
The largest park in Brookline, this park has it all! With a decent playground that your little one can enjoy, there is also so much more to do! Along with the amazing views of Boston from the top of the hill, this park will let your imagination run wild – from kite flying, rolling down hills in the summer, observing stars, ice skating in the winter, picnic tables, baseball fields, walking trails, etc.!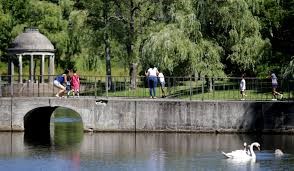 Christopher Columbus Park in the North End Most Bostonians know this iconic park near Faneuil Hall. If you haven't visited, then definitely check it out in either winter or the summer! Enjoy a small play structure for your little ones with a sandbox area overlooking the Boston harbor on one side and the city of Boston on the other side. Lit up for the holidays in the winter, you can explore the North End restaurants or enjoy some historic Freedom Trail sights. You can also walk to the nearby New England Aquarium, enjoy the carousel if it's open and grab a boat to the Boston Harbor Islands depending on the season you visit! Whenever you decide to visit, there is so much to do and see!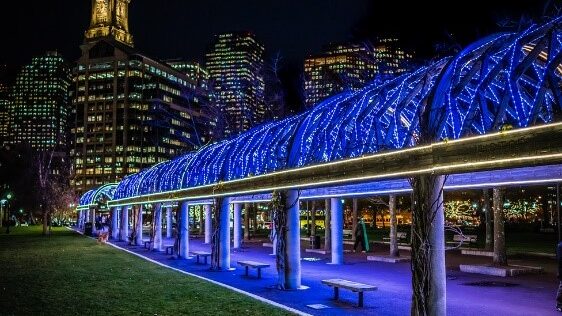 The Cove/Auburndale Playground in Newton Just a short drive from Boston, this playground in Newton is a great spot for toddlers with a decent playground, restrooms and changing tables for your little one. You can enjoy nature trails, baseball fields, tennis courts, and so much more right on the Charles River. This is the perfect spot for a picnic!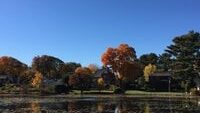 Artesani Playground and Wading Pool in Brighton Located on Soldiers Field Road in Brighton, this playground is great for summer but also decent for colder months as well! In the summer, the wading pool is a huge hit with toddlers, but don't count out a visit in the inter, as this location has good proximity to the river for a nature walk. (And there's plenty of parking available, so don't let that concern stop you.)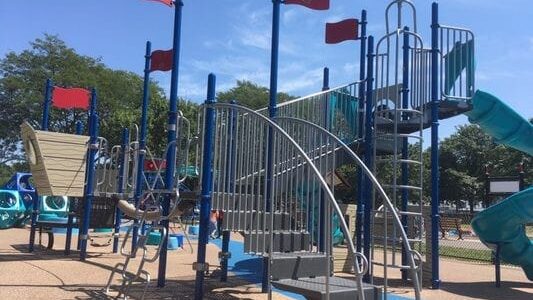 Lynch Park in Beverly Located about 20 minutes North of Boston, Lynch Park is a beautiful area with both kids and parents in mind. Kids will enjoy the large playground structure and summer splash pad, along with two different beachy areas that are great for searching for rocks, shells and wildlife. Parents will love the beautiful rose garden area, views of the ocean that stretch for miles as well as the kept up bathrooms. Definitely worth a drive to explore this place!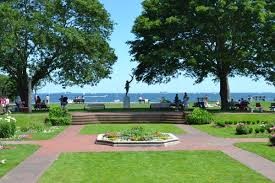 Corey Hill Park in Brookline. If you are looking for an Instagrammable park location, then definitely check out this park on Summit Ave with views of Boston and Cambridge. Along with the unique rock structure playground, there are hammocks and Adirondak chairs for a bit of a rest after you've enjoyed the walking paths and trails that are great for you and your toddler!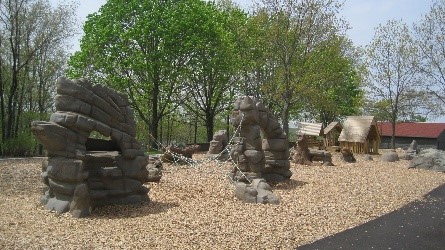 Whew, we think this list should keep you busy for at least the next few months! Please let us know any other playgrounds that are worth a drive for you, or your favorite ones in the area with great views. Also, please note to check the websites before visiting in case of closures due to season or COVID-19.