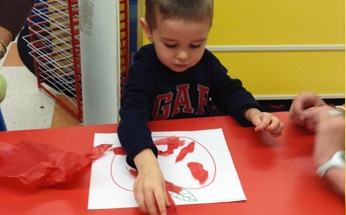 Thanks to their professionalism, perseverance and love, we felt at home from the first day.
Rocio
From day one, Pine Village Directors and teachers committed themselves to welcoming Pablo to the Pine Village family.
Pablo began attending Pine Village in January 2013. "Since the very first day," his mother, Rocio, says, "[then-Director] Marina, [and teachers] Julissa and Marilyn were like surrogate mothers. He needed extra attention to get into the routine of the class and there was no task too challenging for Julissa and Marilyn." While Pablo was being welcomed into Los Pececitos classroom, Marina was making sure that the whole family transitioned with Pablo to Pine Village. "We felt a part of the family right away," Rocio says. "Thanks to their professionalism, perseverance and – above all – lots of love to my son and to us, he quickly became a 'pececito' and we felt right at home at Pine Village from the very first day."
On February 12th, Pablo was diagnosed with autism. "We picked him up right after our meeting with the doctor," says Rocio. "I told Marina as soon as we entered the school and she said, 'We are at your disposal. Anything he needs we are here for all of you.' Marina's were not empty words."
Pablo was accepted at the New England Center for Children for Children with Autism, one of the most highly regarded centers for autism intervention in the country and a referent for the rest of the world, at the beginning of March. Their evidence-based intervention program is home-focused; they usually do not work in schools with children the age of Pablo. "However," Rocio says, "when we explained to them that Pablo was 'mainstreamed' only five weeks after starting in Pine Village and [shared] the type of work that Julissa and Marilyn were doing with him, they were willing to give it a try. After a month of this arrangement, they were even more in love with Pine Village than we are. Marina did everything in her power to make sure Pablo had a space where he can get the one-on-one time that he needs on a daily basis so the [NECCCA caregivers] are able to work with Pablo the way they usually do with children with his diagnosis. In addition, they think that the work of Marilyn and Julissa greatly complements their intervention and that Pablo has the best of both worlds."
Rocio adds, "I do not know if you realize how crucial Pine Village and these three wonderful women have been for the well-being of our entire family. We do not have family in this country. Pine Village has truly became our extended family in the United States. We believe that without Pine Village and Marina, Julissa and Marilyn, we would have had to go back to our country. More importantly, the work, dedication, professionalism, and love of these three incredible women towards my child not only is making an enormous difference in his life everyday but is going to have lasting consequences for his future."
Now in the Preschool classroom, Pablo continues to excel at Pine Village.