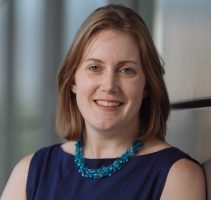 Christine Williams grew up in Connecticut and always knew she wanted to work in education. She attended Keene State College in New Hampshire where she initially majored in Elementary Education and English. Shortly before completing both degrees, she realized she enjoyed the administrative side of education more than teaching, and she officially graduated with a BA in English. Shortly after college, Christine moved to Boston and began working as the Assistant Director of Admission for the School of Library and Information Science at Simmons College (where she spent 10 years working with PVP's own Jen Doyle!). She earned her Master's degree in Communications Management from Simmons in 2007 and was promoted to Associate Director of Admission in 2011. After more than 13 years at Simmons she decided she wanted to work with younger students again and coincidentally, PVP was hiring!
As the Associate Director of Enrollment and Communications, Christine is the first point of contact for most new families and is responsible for scheduling tours, processing applications, setting up partnerships with outside organizations, and coordinating off-site events. She really enjoys interacting with all the PVP families, both new and returning.
Christine and her husband have an elementary school child who is a proud PVP alum. As a family, their favorite place to be is at the beach!
Contact:
enrollment at pinevillagepreschool.com
617-416-7763